This curriculum is not your typical sex education curriculum! It could work alongside a health curriculum, or it could be taught independently by any high school teacher with an interest in philosophy and critical thinking. Parents, teachers, and teens may never agree on what sexuality education curriculum is most appropriate for today's youth. Arguments for and against teaching abstinence, use of contraceptives, and sexual identity are everywhere and seem to become more polarized with changing political times. Nonetheless, we can all agree that students must act ethically and learn to navigate an increasingly sexual world. This ethics perspective is what's missing from other curricula, and what we hope to have captured with SECS.
Meaningful sex education should include multi-layered discussions of: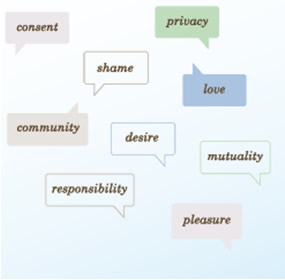 In this curriculum, students:
Read ancient to modern philosophy
Discuss topics important to the world today
Investigate ideas of consent, respect, friendship, and love
Explore a variety of religious perspectives
Talk about shame, embarrassment, and guilt
Consider GLBT concerns from a rights perspective
Emphasize mutuality and reciprocity as goals
… and more.